BRAISED SPICED PIGS CHEEKS
The perfect winter warmer!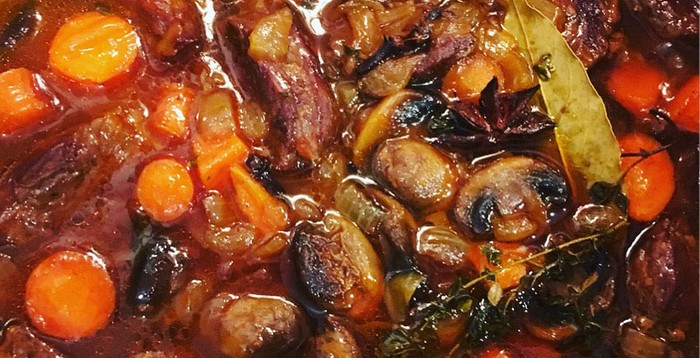 Ingredients (Serves 2):
1 pack of Morris of Hoggeston pigs cheeks (or diced pork)
1 tbsp oil
Knob of butter
1 onion, chopped
3 carrots, chopped
8 mushrooms, halved
1 tbsp tomato puree
3 tbsp honey
1/2 tsp cloves
1 star anise
Few thyme sprigs
1 bay leaf
Chicken stock – enough to cover
1. Cut each cheek into 4 slices.
2. Season and brown in the oil and then transfer to a casserole dish.
3. Add the vegetables to the oil and cook until softened, add the honey, cloves and star anise and increase heat slightly.
4. Once bubbling, transfer to casserole dish.
5. Add the herbs and pour in enough stock to cover.
6. Braise at 150C until the meat is tender (1.5 – 2 hours)
7. If necessary, thicken the stew with cornflour mixed in a little water.
8. Serve with mashed potato and veg of your choice. Enjoy!