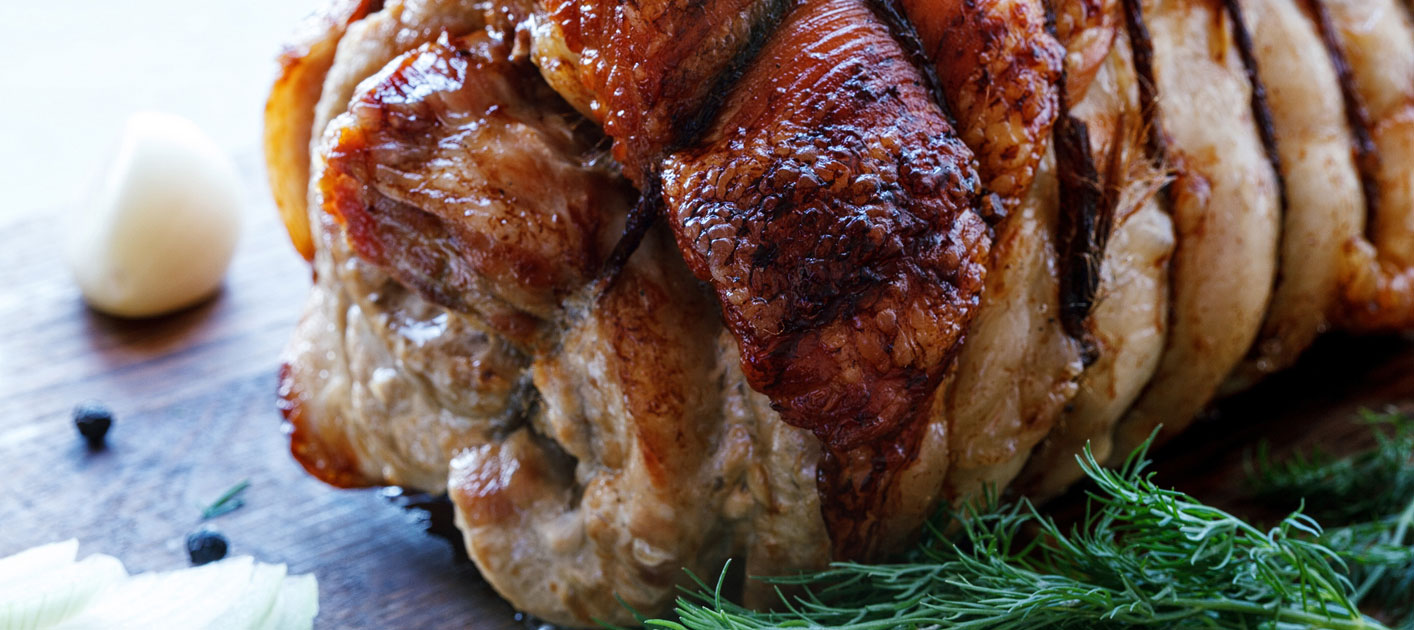 "Absolutely fabulous producer of sausages, pies and joints"*
Loin joints
Leg joints
Spare rib joints
Chops
Tenderloin
Belly joints/slices
Cheeks
Sausages
Chipolatas
Gammon joints/steaks – smoked & unsmoked
Bacon – smoked & unsmoked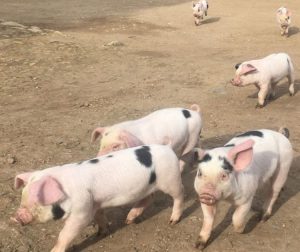 Our pigs are Gloucester Old Spot X, an ancient English breed renowned for its delicious flavoursome and succulent pork, which produces the best crackling!
Our sows live in straw yards and their piglets can fit through a pop hole to explore the yard, orchard and beyond. We believe this free-range lifestyle that they enjoy helps to produce the finest tasting pork.
Our pigs are fed on a diet free from antibiotics and genetically modified foods.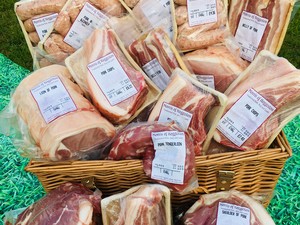 Half a Pig - £110
A half-pig box includes a boned and rolled leg cut into three joints, a boned and rolled shoulder cut into three joints, one boned and rolled loin joint, approximately four packs of chops (on the bone), one belly pork joint, two packs belly slices, one pork tenderloin and six packs of sausages.
Topside joints
Rib joints/steaks
Sirloin joints/steaks
Rump, Bistro & Frying steaks
Fillet joints/steaks
Pichanha & Bavette
Brisket joints
Braising steak
Diced
Mince
Beef & horseradish sausages
Burgers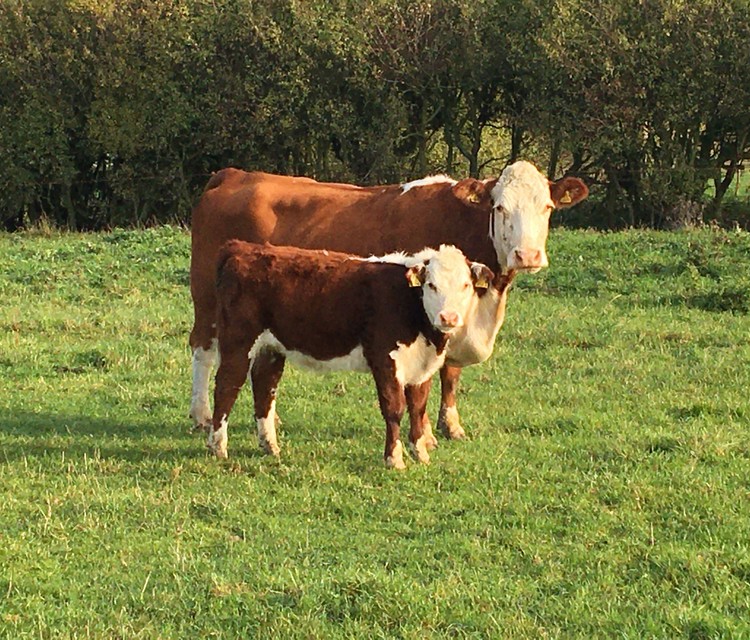 The Morris family have been producing Hereford beef from our happy herd of cows for over 30 years. Our herd started with just one calf called Rose back in 1984. We now have nearly 100 cows but they still all have names! Our calves are born in the spring and enjoy two long summers out at grass, being reared naturally in the surroundings of our wildflower margins and species-rich hedgerows.
Our great tasting beef is grown slowly, fed on a diet of grass and herbs to produce beautifully marbled beef which is full of flavour. It is hung for 28 days, allowing it to become even more tender and succulent.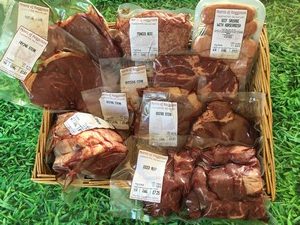 The Hoggeston Box - £50
The perfect starter box containing 6 different cuts of our 28day aged Hereford beef. Fills one freezer drawer.
This includes a topside joint, two steaks, two packs of stewing beef, two packs of mince, beef sausages and frying steak.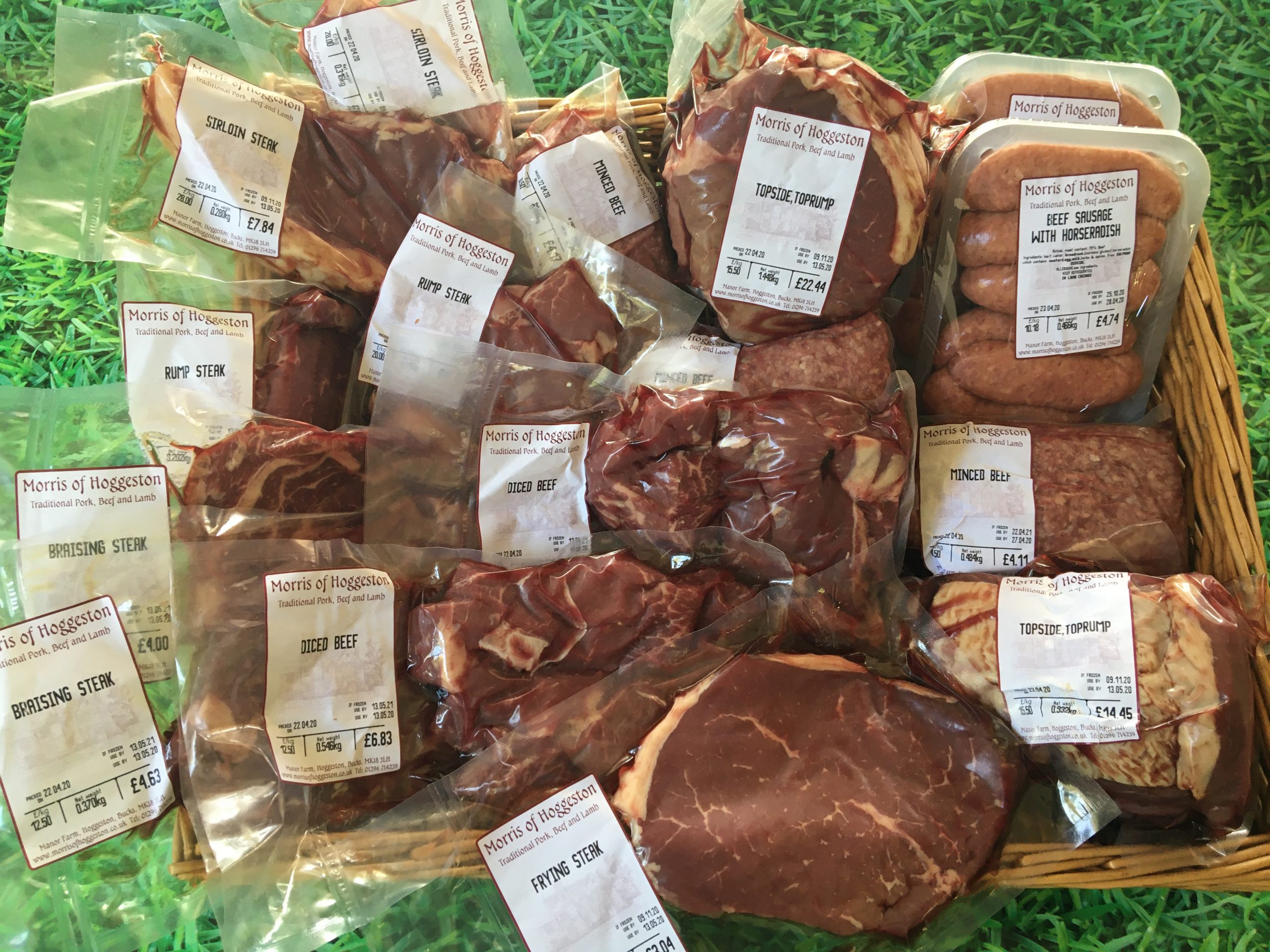 The Winslow Box - £100
The perfect small family box containing 8 different cuts of our 28day aged Hereford beef.
This middle sized beef box is packed with two topside joints, two sirloins steaks, 2 rump steaks, frying steak, two packs of braising beef and some diced beef, four packs of mince and beef sausages.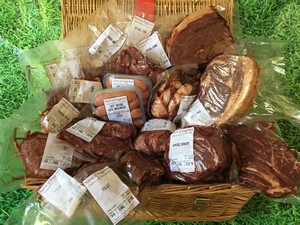 The Buckingham Box - £150
Ideal for larger families, the larger option is full of up to 10 different cuts of our 28day aged Hereford beef.
Contains a single rib joint, two topside joints, two sirloin and two fillet steaks, frying steak, and a selection of blade fillet, braising steak, diced beef, mince and sausages.
Leg joints
Shoulder joints
Chops
Chump chops
Rack of lamb
Fillet
Breast
Diced
Mince
Liver & kidney
Half a lamb – boxed & cut to your requirements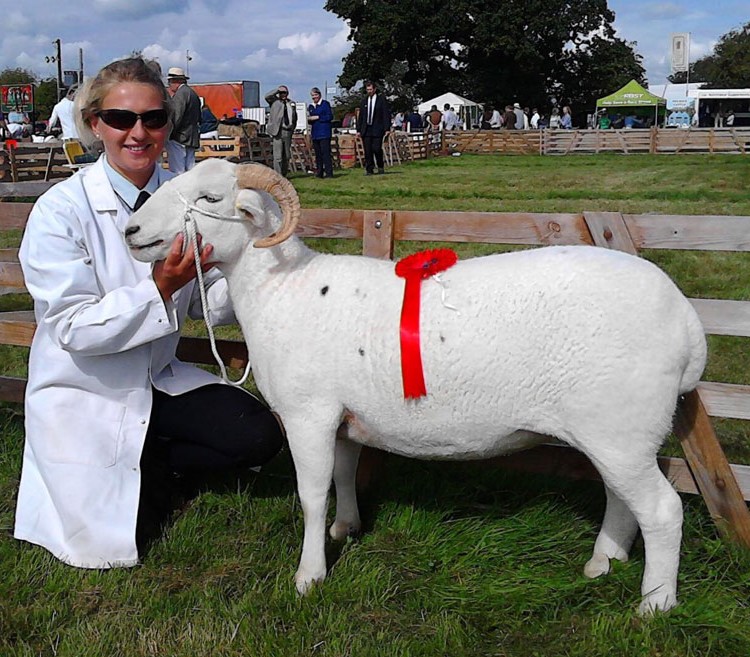 Our sheep are pedigree Wiltshire Horns. Our flock has been on the farm for over 350 years and is one of the oldest Wiltshire Horn flocks in the country. The Wiltshire breed is the only British breed that naturally sheds its fleece, and therefore does not require shearing.
All our lambs are born and reared outside, and are fed entirely from milk and grass on our herb and clover-rich pastures. We also produce mutton throughout the autumn and winter months. Our Wiltshire mutton is 100% grass and herb-fed, and has a richer, deeper flavour than lamb.
Grass-fed Wiltshire lamb from our historic award winning flock.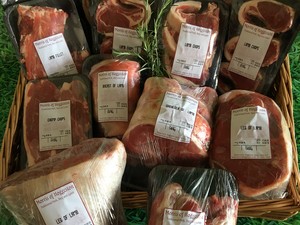 The Half - £90
Half a lamb consists of one leg joint (whole or halved), neck fillet, loin chops, chump chops, breast, liver and one shoulder joint (whole or halved).
Fills one freezer drawer.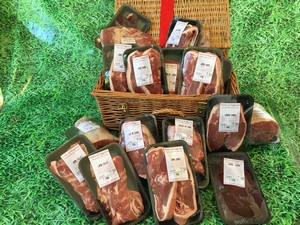 The Whole - £170
Two leg joints (whole or halved), two packs neck fillet, butterfly chops, two packs of chump chops, two boned and rolled breasts of lamb, liver and two shoulder joints (whole or halved).