SLOW-COOKED BREAST OF LAMB WITH CARIBBEAN SPICES
This recipe makes the most of one of the most under-recognised cuts of lamb – the breast. Here it is slow-cooked in Caribbean herbs and spices and then roasted at the end to crisp it up and cook off the fat. Alternatively, crisp it up on the BBQ!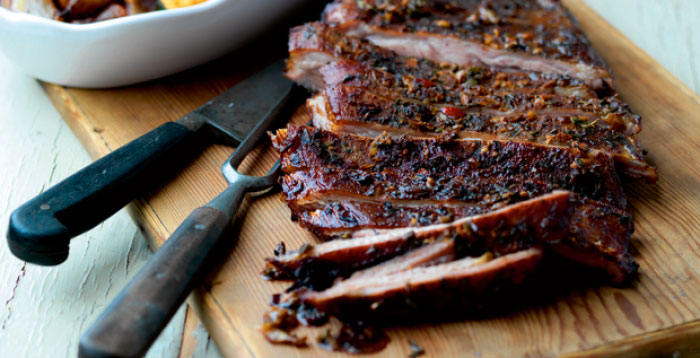 Ingredients:
Approx. 1kg boneless lamb breast
2 small onions
4 garlic cloves
2tbsp sweet chilli sauce
2tsp ground allspice
20g fresh thyme
100ml dark soy sauce
50ml dark rum
1tsp salt
3tbsp brown sugar
1. Blend all ingredients apart from the lamb until smooth.
2. Place lamb breast in a shallow dish (unrolled) and make several slashes on each side with a sharp knife.
3. Pour marinade over and turn to coat, cover and refrigerate overnight or for a few hours.
4. Cook slowly for 3 hours either in an aga or slow cooker or roast slowly for 1 hour 40 minutes in an oven.
5. Transfer to a roasting rack in a roasting tin and crisp up for 15 mins in a hot oven or the BBQ.