STICKY PORK WITH PINEAPPLE
This recipe combines tender and succulent pork with mild spices and sweet juicy pineapple to make a delicious sweet and sour-style stew. Using diced pork is cheapest but pork fillet is also suitable.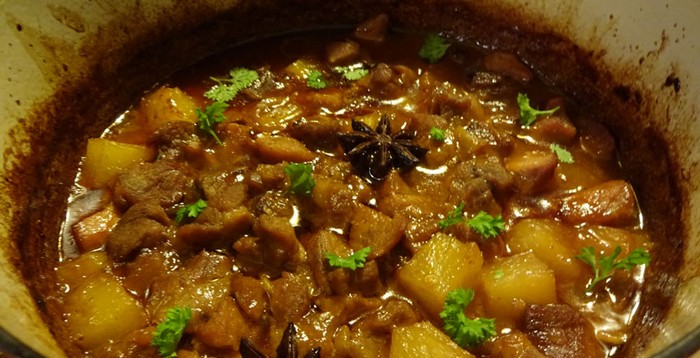 ngredients:
2 packs Morris of Hoggeston diced pork
3 onions, roughly chopped
3 garlic cloves, thinly sliced
2 tbsp sweet chilli sauce
1 tsp ground coriander
2 star anise
75g dark soft brown sugar
1 ½ tbsp tomato puree
300ml fish stock
300ml chicken stock
300g fresh pineapple cut into chunks (or tinned)
1. Cut pork into smaller chunks if necessary, season & brown in a flameproof casserole dish. Set aside.
2. Stir onions into remaining fat, cover & soften for 5 minutes.
3. Add the garlic, coriander, sweet chilli sauce & star anise to the dish, sizzle for a minute, stirring, then mix in the sugar & tomato puree.
4. Once these have melted & it looks a bit like BBQ sauce return the pork to the dish, along with the fish stock, chicken stock & pineapple.
5. Once simmering, cover but leave a small gap for the steam to escape & put in the oven (160C/140C fan/gas 3) for 2 hours.
6. With 30 mins to go skim some of the fat from the top to allow the sauce to reduce & return to the oven.
7. The pork should be meltingly soft when ready, if the sauce is too thin, place on the hob & simmer until it thickens slightly.
8. Serve with rice or creamy mash potato & garnish with chopped fresh coriander.