Very special sweet & sour pork casserole
This recipe is a firm family favourite! It is very different to the chinese take-away sweet and sour sauce, being less colourful but also much healthier!  You can add whatever vegetables you like, and chunks of pork belly or tenderloin would also work well instead of diced shoulder. We usually served it with rice and peas, but mashed potato would be just as good.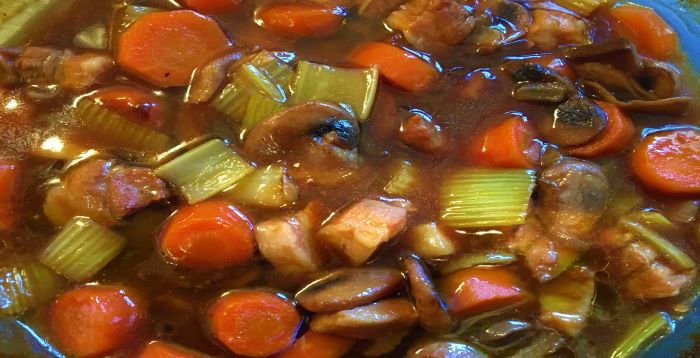 Ingredients:
1 pack Morris of Hoggeston diced pork shoulder (approx. 500g)
2tbsp oil
1tbsp sherry
1tbsp honey
2tbsp vinegar
1tbsp soy sauce
1 onion, diced
2 carrots, diced
3 sticks celery, diced
6 mushrooms, sliced
1 tin beansprouts
250ml stock
1tbsp cornflour
1. Mix 1tbsp oil, sherry, honey, vinegar and 1tbsp soy sauce in a bowl and season well.  Marinate the pork in the mixture for at least two hours in the fridge, turning from time to time.
2. Heat 1tbsp oil and fry the vegetables until starting to soften, transfer to a casserole dish.
3. With a slotted spoon, transfer the pork to the pan and brown in the remaining oil.
4. Transfer the pork to the casserole dish and add the marinade and stock.
5. Cover and cook at 160C for about an hour, or until tender, adding the bean sprouts half way through.
6. Mix the remaining 1tbsp soy sauce with the cornflour and stir into the casserole, return to the oven for 5 minutes to thicken.