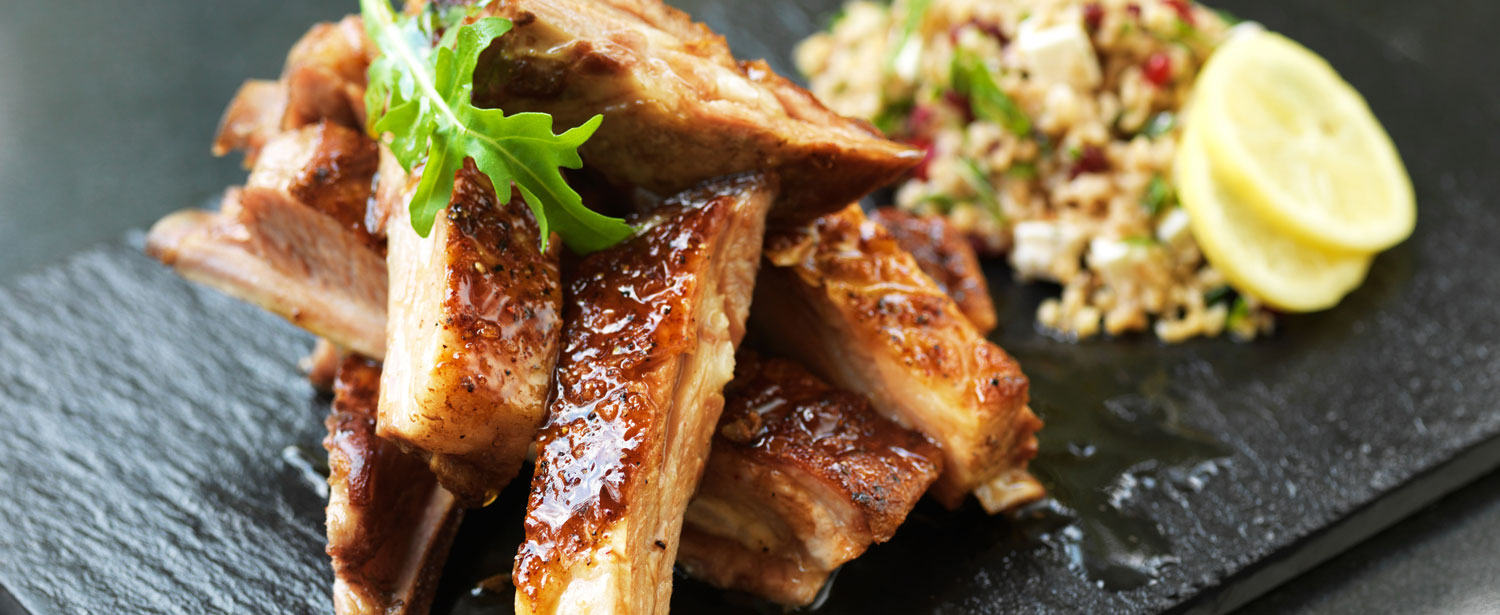 RECIPES
"Tastiest beef joint I've ever had. Highly recommended"*
BRAISED SPICED PIGS CHEEKS
The perfect winter warmer!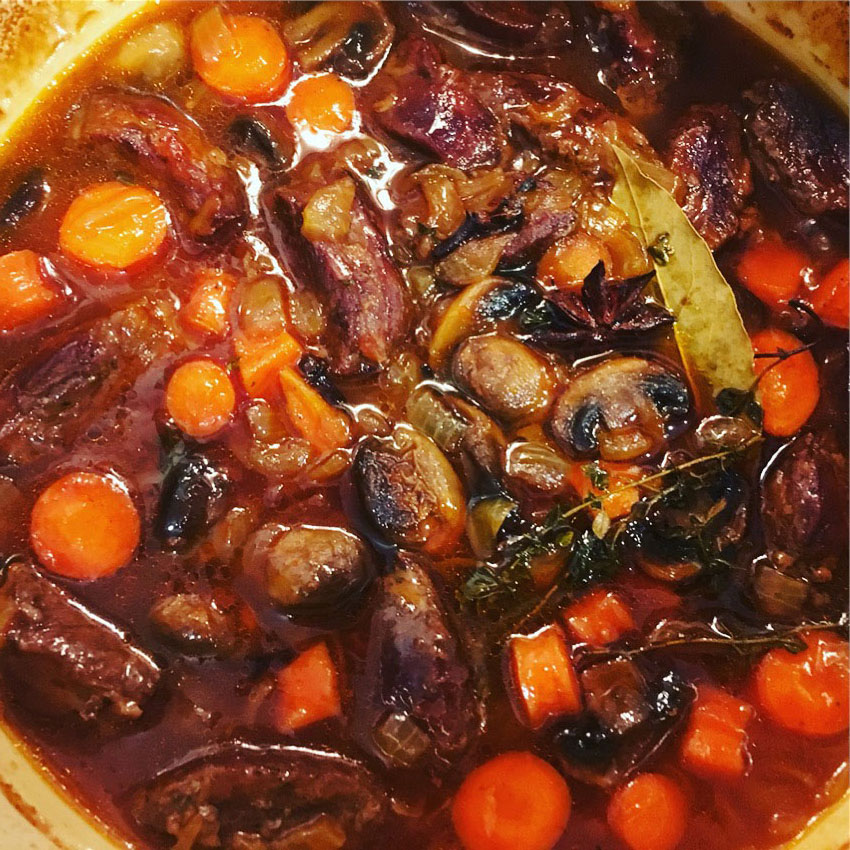 Ingredients (Serves 2):
1 pack of Morris of Hoggeston pigs cheeks (or diced pork)
1 tbsp oil
Knob of butter
1 onion, chopped
3 carrots, chopped
8 mushrooms, halved
1 tbsp tomato puree
3 tbsp honey
1/2 tsp cloves
1 star anise
Few thyme sprigs
1 bay leaf
Chicken stock – enough to cover
1. Cut each cheek into 4 slices.
2. Season and brown in the oil and then transfer to a casserole dish.
3. Add the vegetables to the oil and cook until softened, add the honey, cloves and star anise and increase heat slightly.
4. Once bubbling, transfer to casserole dish.
5. Add the herbs and pour in enough stock to cover.
6. Braise at 150'C until the meat is tender (1.5 – 2 hours)
7. If necessary, thicken the stew with cornflour mixed in a little water.
8. Serve with mashed potato and veg of your choice. Enjoy!
STICKY GLAZED PARTY SAUSAGES
Ingredients:
1 pack Morris of Hoggeston chipolatas
1-2 tbsp. Maple syrup
1 tsp Soy sauce
Sesame seeds


1. Pinch and twist each chipolata in the middle, then cut in half to make cocktail sized sausages.
2. Cook the chipolatas
3. Once cooked turn into a frying pan and heat gently. Drizzle with maple syrup and a dash of soy sauce and stir. Bubble gently for 3-5mins.
4. Sprinkle with sesame seeds and eat!

BEEF, MUSHROOM AND RED WINE WITH THYME SUET CRUST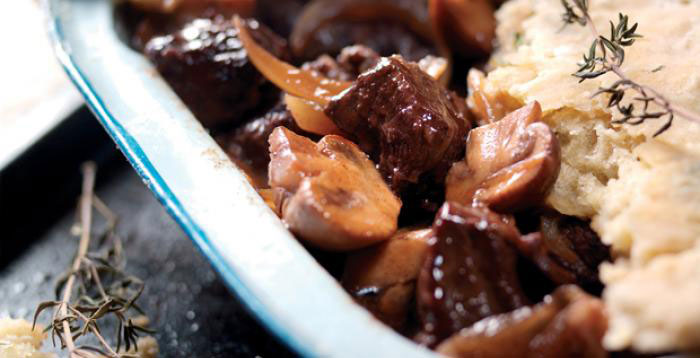 Traditional suet crust pie on top of slow-cooked beef braising or stewing cubes, mushrooms and red wine. A firm family favourite on chilly winter evenings. Serves 4.

Ingredients:
450g diced beef or braising steak
15ml oil
1 onion, sliced
2 garlic cloves, crushed
150g mushrooms, quartered
450ml red wine
1tbsp gravy granules
1tbsp redcurrant jelly

For the suet crust
300g self raising flour
150g suet
2tbsp chopped thyme
180ml water

1. Preheat the oven to Gas mark 3, 170°C, 325°F.
2. Heat the oil in a pan and cook the beef for 3-4 minutes until browned. Add the onion, garlic, and mushrooms, and cook for 2-3 minutes. Pour over the red wine and add the gravy granules and redcurrant jelly. Heat for 3-4 minutes until thickened, then transfer to a large ovenproof pie dish.
3. To make the pastry place the flour into a bowl with the suet. Add the thyme, chopped, and season with salt. Add enough water to bind and roll out on a floured surface to cover the pie dish. Place on top of the meat, cover with foil and cook in a preheated oven for 2 hours.
4. Remove the foil for the last 15 minutes of cooking time to brown the pastry. Serve with mash and seasonal vegetables.

SLOW-COOKED BREAST OF LAMB WITH CARIBBEAN SPICES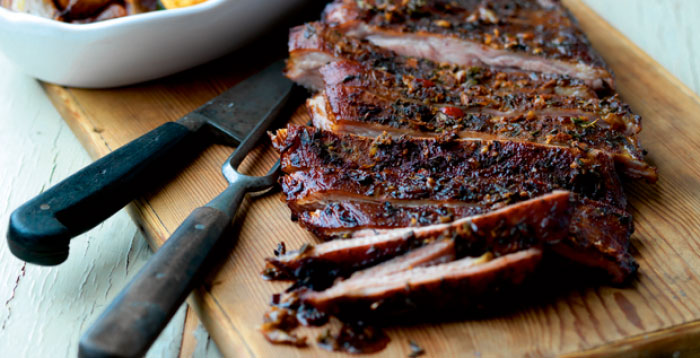 This recipe makes the most of one of the most under-recognised cuts of lamb – the breast. Here it is slow-cooked in Caribbean herbs and spices and then roasted at the end to crisp it up and cook off the fat. Alternatively, crisp it up on the BBQ!

Ingredients:
Approx. 1kg boneless lamb breast
2 small onions
4 garlic cloves
2tbsp sweet chilli sauce
2tsp ground allspice
20g fresh thyme
100ml dark soy sauce
50ml dark rum
1tsp salt
3tbsp brown sugar

1. Blend all ingredients apart from the lamb until smooth.
2. Place lamb breast in a shallow dish (unrolled) and make several slashes on each side with a sharp knife.
3. Pour marinade over and turn to coat, cover and refrigerate overnight or for a few hours.
4. Cook slowly for 3 hours either in an aga or slow cooker or roast slowly for 1 hour 40 minutes in an oven.
5. Transfer to a roasting rack in a roasting tin and crisp up for 15 mins in a hot oven or the BBQ.

STICKY PORK WITH PINEAPPLE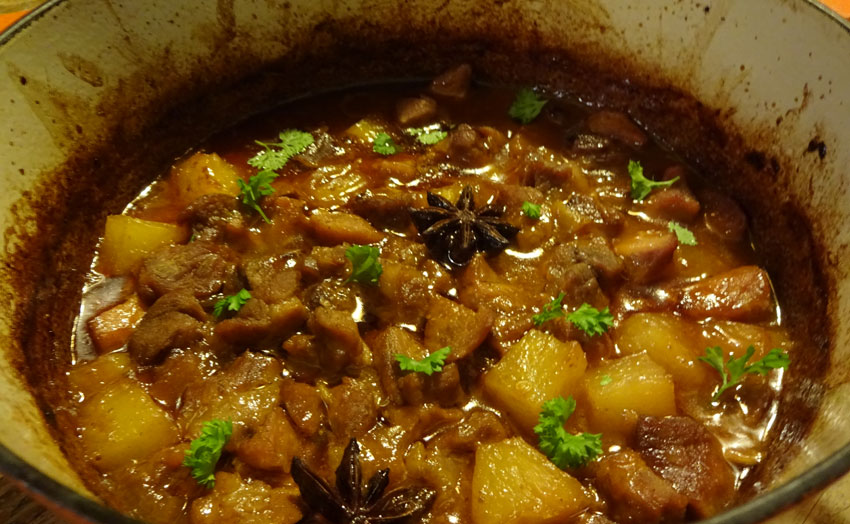 This recipe combines tender and succulent pork with mild spices and sweet juicy pineapple to make a delicious sweet and sour-style stew. Using diced pork is cheapest but pork fillet is also suitable.

Ingredients:
2 packs Morris of Hoggeston diced pork
3 onions, roughly chopped
3 garlic cloves, thinly sliced
2 tbsp sweet chilli sauce
1 tsp ground coriander
2 star anise
75g dark soft brown sugar
1 ½ tbsp tomato puree
300ml fish stock
300ml chicken stock
300g fresh pineapple cut into chunks (or tinned)

1. Cut pork into smaller chunks if necessary, season & brown in a flameproof casserole dish. Set aside.
2. Stir onions into remaining fat, cover & soften for 5 mins.
3. Add the garlic, coriander, sweet chilli sauce & star anise to the dish, sizzle for a minute, stirring, then mix in the sugar & tomato puree.
4. Once these have melted & it looks a bit like BBQ sauce return the pork to the dish, along with the fish stock, chicken stock & pineapple.
5. Once simmering, cover but leave a small gap for the steam to escape & put in the oven (160oC/140oC fan/gas 3) for 2 hours.
6. With 30 mins to go skim some of the fat from the top to allow the sauce to reduce & return to the oven.
7. The pork should be meltingly soft when ready, if the sauce is too thin, place on the hob & simmer until it thickens slightly.
8. Serve with rice or creamy mash potato & garnish with chopped fresh coriander.

*Facebook feedback